Welcome to

The Cheshire Circuit

Walking for pleasure I first began investigating the Weaver Way In 2006. I reconnoitered a route following the River Weaver where ever possible; the final work was then undertaken by an organisation called The Weaver Valley (now dormant?).
I was never completely comfortable with Weaver Valley's route as it followed "too much canal" and not enough River Weaver. The walk never finished at the Manchester Ship Canal, the proper end of the River Weaver. The opportunity to walk Frodsham Marshes was lost and today this is all enjoyed walking through a wind turbine farm back to Frodsham to THE END / THE START.
In 2016, as part of my final training for the Marathon des Sables, I ran the Sandstone Trail. It was at this time the thought of finding a link to Audlem occurred.
The idea of a Cheshire (and Shropshire let me not forget) long-distance path formed in my mind. Start at Frodsham walk South (the traditional direction) to Whitchurch on the Sandstone Trail and then East via a Link (joining a chain of public footpaths) to Audlem and finally North following the River Weaver back to Frodsham THE BEGINNING AND THE END – TCC came to mind.
Below you will see the full route split onto two Key Maps – you can enlarge both, then choose which maps to walk by clicking the squares, then print for use whilst walking.
Welcome to

Frodsham

the start
The start of TCC - The Cheshire Circuit
We begin our journey at the Sandstone Trail obelisk outside of The Bears Paw. The route has much to enjoy. TCC begins in the smart market town of Frodsham (there is still a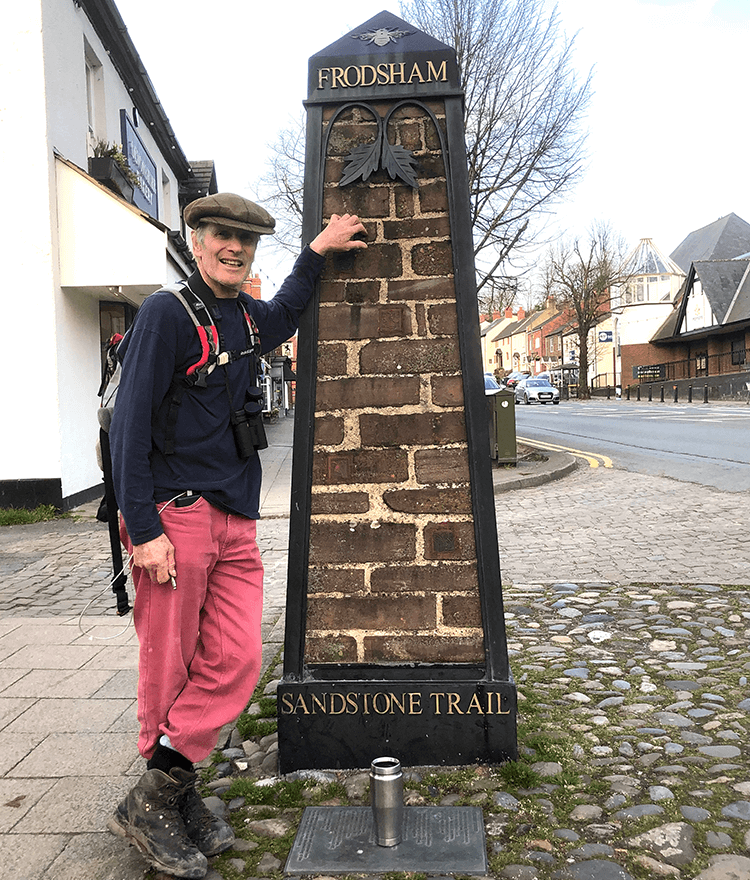 weekly market every Thursday 9am - 4pm); Frodsham has a wide main street, easy parking, elegant Georgian buildings mingled with small thatched cottages. Frodsham has all the facilities to begin walking TCC including accommodation, pubs and lovely tearooms!